Dear Eolake,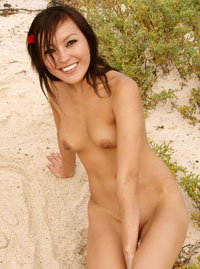 I am a member of Domai and I've been watching your site on and off for years. I have never been so impressed by any photos, as far as I can recollect, as the fantastic photos taken by Charles Hollander of the model, Agnes. It's hard to say whch I enjoyed more, the natural innocent beauty of the model, who is completely at home in her body, with no apparent self-consciousness, and who seems totally natural in her movements, or the excellent taste of the photographer in his choice of natural, unpretentious poses, avoiding, for the most part, the traditional, artificial poses used by most photographers. Also the fantastic panoramic shots of the beach with the with the model moving in it as part of nature.

Every pose the model took seemed so natural, (I have to repeat it again) that is just like being with a friend of mine, with whom I have great affinity and no need for posturing. Very refreshing.

I am an artist who lives on Miami Beach and the wide angle shots the photographer made waves rolling in the background, gave me new inspiration for some paintings which I will be doing of the beach, using my own models.

So you, Mr. Hollander and Agnes have teamed together to produce and provide an inspiring piece of art. If you can, please thank them for me.

Thanks again,

Jack
---
Dear DOMAI,
I spend some of my free time working on computers for some of my friends and co-workers to help them get them running right. And while I do come across a lot of hard core porn, occasionally I see pictures that remind me of DOMAI.

Recently one of my co-workers brought me her laptop to have some things done to it. She asked me to back up all of the data and do what I can with it. So I started late one night and went to backing up her files. I selected the folders I wanted to copy and let the computer do its thing. I figured I could listen to some tunes while the computer was running and I started looking through her music files to see if there was any decent music I could listen to. As I was going through her music I came across a folder with the name HIDE ME. Curiosity got the better of me and I opened it. Inside I found hundreds of pictures of her. These were some beautiful pictures. There were pictures of her at the beach in a maroon bikini that extremely complimented her red hair and set off her curves. There were pictures of her on the porch of a cabin in the mountains wearing denim shorts and a flannel shirt tied up around her breasts. What caught my eye in the cabin shots was that she had a remote in her hand telling me that she was the one taking the pictures. I looked through every set of shots in that folder and while I didn't find anything that would classify as risqué, I definitely found a woman that was proud of her body.

As I finished looking through her photo album the files finished copying. I backed out of the HIDE ME folder and continued on my search for music. Scrolling down through her files I find another folder named PERSONAL. Once again curiosity came knocking and I opened the folder. What I found was amazing. It was the continuation of each of the photo series that she had in the previous folder. I was lucky enough to see that maroon bikini falling from her hands as she removed it. The way she untied the flannel shirt and let it hang loosely on her torso while being blown in the wind was erotic to say the least. There were thousands of pictures of her nude and she took every one of them.

I finished my work backing up the computer files and with an idea in mind I made a disk with both of the folders combined. The next day I delivered the computer and the disks and told her what the special disk was. She looked at me with an embarrassed grin on her face. She said she had completely forgotten about the pictures and had never intended for anyone to see them, especially the nude ones. That's why I was shocked when she asked me what I thought of the pictures. I gave her my DOMIA opinion. I told her the pictures were beautiful without referring to the nude body standing there in the midst of them all. That she had definitely used some techniques and photography skills that were well beyond my ability. That's when I got my second shock of the day. She asked me if I wanted to learn some of those skills and do her a favor. I asked her what she had in mind. She tells me that she has a place down by a local river that she had wanted to shoot at and didn't know if she could do it on her own and wanted to know if I would be willing to help. Of course I tell her I would be honored to help.

So that weekend we pack up and go down to the river at a very secluded spot. She told me of a few ideas she wanted to do and asked what I thought. I gave her my opinion and then we started. She started with basic poses and I took shot after shot of her. Then she got down into the water and started undressing. I was hesitant to see her nude even though I knew this moment was coming. She sensed this hesitation and came over to where I was with her top off and took the camera from me and told me to switch places with her. While that wasn't what I had in mind, I didn't want to insult her or make her think seeing her nude was all I had in mind. So I went about undressing. She continued clicking away with the camera and I got to feeling more comfortable with the situation. Once I was completely nude, she gave me the camera back and I continued taking the pictures. At the end of the day we had taken over 2000 pictures of the two of us. Even some with the two of us together. We were completely comfortable with each other being nude together.

I asked her after we finished why she asked me to take pictures for her. She responded by telling me how she appreciated my opinion of the pictures and not my opinion of her body. Simply put, I didn't grade her, just her work. When you consider the fact that she has burn scars on 50% of her body (which I had never seen before looking at her pictures) that was the grade she wanted.