This mail just hit my inbox today:
My Dear Eolake,
There isn't much in my life right now that is going well, but receiving you're wonderful emails keeps an old man alive and happy. Bless you for not filling the internet with trash. You are a good man and a wonderful finder of beautiful art.
Gratefully, Larry
Thanks to Larry and to the many people who send very kind emails. It makes it all much more worthwhile.


Dear DOMAI
Nudist Architecture and Landscape Design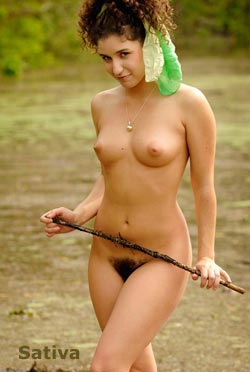 Sativa, as photographed by John Barry, is a near-exact resemblance of a beautiful and hard-working naturist friend named Maggie, a spirited woman I knew platonically many years ago in Florida, USA.

Maggie was athletically fit, voluptuously curved, and seven years older than me. After a divorce, she had moved south from Virginia. It can be very cold in the winter there. In Florida, the weather is warm, humid throughout most the year, and especially hot in the summer. Although there are many natural beaches, lakes, and waterways in Florida, man-made pools, showers, and lawn irrigation systems on residential properties abound. Water conservation is a considerable social issue.

Naturally, Floridians do not wear much in the way of clothing, especially undergarments. These southern Americans are accustomed to bathing, cooling off, showering clean, and changing clothes often each day. It is also legal in some coastal and inland areas, especially in South Florida, to sunbathe and swim nude. Haulover Beach in Miami is a popular nudist destination.

To see Barry's amazing photo shoot of Sativa in Domai this week brought back countless memories of my initial introduction to, and lifelong respect for, naturism. Thanks to Maggie's passions for designing her own nudist home, my own enjoyment of nudism is equally as permanent today.

Maggie disliked being clothed, and adored being outdoors or swimming naked. However, the apartment where she first lived was not exactly nudist-friendly. Maggie would often get caught skinny dipping after hours in the community pool, or be reprimanded for sunning nude on her small balcony. She decided to move into her own house for privacy and freedom.

Because many Floridians prefer to swim, sun, and cool down often during the day, "the architecture of privacy" in residential backyards is especially interesting. Many Floridians deliberately incorporate privacy into the design of their homes and landscapes because pool safety fences are required by law. Due to the vast amount of man-made pools in Florida's back yards, along with many international ex-patriots now living there, being nude at home is natural and popular.

Maggie bought a small house overlooking a marsh in a secluded neighborhood. The property had a raw, overgrown landscape Maggie could carve out and design to her liking. She loved to cook, read, and sleep indoors and out, but especially liked to fish, camp, work, and bathe outdoors –– nude of course. Her plan was to renovate the home to be as open to nature as possible, yet private. It would take over a year and a half (18 months) for her to complete much of the renovation work herself, with some help. Since I had skinny dipped with Maggie before, and had farm and carpentry experience, she invited me over to visit and eventually work on her nudist-designed residence.

Maggie always worked in the nude, wearing only work boots, socks, a carpenter's apron, and a baseball cap. She tirelessly improved many aspects of her new home herself: removing walls, building decks, installing large windows and French doors, growing wild food, flower, and spice gardens, modernizing her home's interior fixtures, and especially rebuilding almost every aspect of the house so that she could easily be nude outdoors. Maggie even restored antique furniture and accepted occasional work in other peoples' homes (clothed) to supplement her modest income as a math teacher.

Most afternoons after school, Maggie was home working on the renovation of her new home. The tall, thin, bushy pine trees that lined the sides of her property allowed she and willing guests to be nude outside with adequate privacy. Her design plans were elegantly modest and based on a budget. I was hired to help her lift heavy materials, help cultivate the landscape, and assist carpentry installations on some evenings and weekends. Maggie would quickly dress to go out to the hardware store for supplies, and quickly shed her sun dress upon return.

Maggie felt comfortable in the Florida heat. She was not shy about being naked in front of close friends or people hired to work with her to restore her home. As I've written in the past regarding hiking nude, working nude is even more physically active and anatomically interesting. Maggie's body was somewhat muscular, voluptuous, and shaved, except for her genitalia. She worked at a healthy pace and thought nothing of being without clothes during any task. Maggie's nudity was never sexual, or on display to get attention. Sativa's photos emulate Maggie's beauty, body style, and brave passions perfectly.

As a northerner not accustomed to Florida heat, Maggie needed to cool off more often. I knew it was time for a break when she would come into the backyard, remove her boots, socks, apron, and ball cap, and bathe confidently under the backyard lawn sprinkler with a little hand soap. The one pleasure I did enjoy as a healthy man was the sight of her dark hair spilling out from under her work hat, which matched her dark feminine hair color beautifully. Naturally in the open air and sunlight, with Maggie's eyes closed due to the soap, my eyes were widely opened.

I became so accustomed to Maggie working au natural in a non-sexual way that I too shed my work clothes. After taking turns bathing under the shower or sprinkler, we would slip into the small wading pool to cool off, talk about work-in-progress, and discuss her passionate ideas for nudist-enabling architecture and landscape design.

Maggie had first designed her home with an outdoor shower to the left, wading pool to the right, and sprinkler system in the middle. The living room opened to an outdoor deck and garden. Maggie's small roof-top deck was then transformed into larger space ideal for evening dining or a glasses of wine under the stars. A small wading pool with a cascading waterfall for cooling off was also installed on the roof, to accommodate 3-4 people. Approximately a year later, Maggie completed a 7-feet high, circular bush-lined patio just outside the master bedroom into the back yard, complete with a luxury outdoor shower, toilet, bidet, shaving sink, and small wading pool –– all private yet fully open to nature.

Maggie's home, from top to bottom, inside and out, was finally designed and complete at a perfect naturist's home. Thank you Eolake for presenting Sativa and bringing back such foundational memories.

Christopher

"DOMAI seems to be the only website that offers what I want to see. The girls always look innocent and pretty. I look at a photo for only a few seconds, and I feel better than I used to feel. Viewing a DOMAI pic is like taking aspirin when you have a headache, or an anti-depressant when you feel down." - RM. <ruudmoret[-at-]hotmail.com
[e-mail address used with permission]


These are samples from the members' section. In fact only from this week's pages! And the pages go back to the nineties.
Pictures are available in 6X size for members.
Join today.