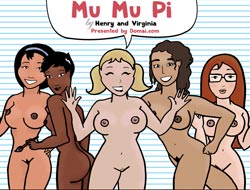 Apropos young women who enjoy the art of nudes (the letter below), here is the first DOMAI comic strip, Mu Mu Pi! I decided to make it free for everybody.
Get it here in PDF (12 pages. Works nicely on an iPad too, I made sure of that, I love the device.)
[Note: you may need Adobe Reader, though most computers have some PDF reader.] [Or: just pages as JPG files.]
(To download the PDF file on an iPad, hold on the link, then copy the address. Then go to GoodReader (which you ought to have, it's great) and paste in the address for download and storage.)
It was made by Henry And Virginia McAllister on commission by DOMAI.
Feel free to save it to disk (and share it with a friend or two) just like pictures from this site.
Please tell me how you like the strip.

Eolake Stobblehouse
contact
Dear DOMAI
I am a young woman who enjoys the art of the nude very much. In the past year, my friends and I started a figure drawing group. I have always been interested in artistic nudes, but never had the opportunity to draw any before. My college friends and I started a group that began to meet in a rented studio space. Because we were attending school, we didn have much money for hiring models, so I suggested we each take turns modelling. This suggestion was not well received at first. Most of the girls were apprehensive about being seen nude. I explained that we were all friends and that this experience would probably make us feel better about ourselves. After some discussion, one girl agreed to be the first to pose.

We set up our easels that day, prepared a simple platform and invited our model in. She entered wearing her little robe, mounted the stage and faced us all for a moment. There was no denying she was a pretty girl. She had deep dark eyes and her glossy black hair flowed down her shoulders. After a moment's pause, she opened her robe and let it fall.

I was impressed. I think we all were. I admired her bravery in being the first to volunteer. She had a lovely body, fairly tall with long, elegant legs. I found it very pleasant to observe a live nude person; it 's like watching a living sculpture. She was standing still like a statue, but showing the subtle signs of a living being: eyes blinking, chest rising slightly as she breathed slowly. Drawing with my charcoal stick, I tried to capture her long, graceful neck and pronounced collarbones. I sketched the curves of her fine breasts. They were of medium size and wonderfully round. ¬ Her navel was just a little circle and the protruding points of her hip bones were visible. The long legs were her best feature. We asked for poses that would highlight them. She stood in profile with one leg raised onto a chair. She lay on her back with legs extended upward like the hands of a clock in high noon position. She curled into a ball with her legs hugging close against her. Her final pose was remarkable kind of head stand. With her head and shoulders on the ground, she looked up, bracing herself with her elbows, her hands supporting her back with her torso and legs standing up in the air. It was great to see an upside down body.

Our next model was a petite girl. Her body was small; most people would call her cute. She head short red hair and very white skin that had a slightly rosy glow. Although she was twenty, the innocence of her face and the delicacy of her little body made her look like a younger girl. Her breasts were just little pointed mounds. Her waist was so tiny, her buttocks so adorable in their smallness. We did a series of quick gesture drawings where the model assumes a pose for just a few seconds and we rapidly sketch a few lines just to get the abstract feel of the body. She moved about like a dancer, holding her arms up or out. She did a long pose of thirty minutes, standing in profile. I loved how her back curved in a gentle arch.

The next girl to pose was someone I had expected to be a reluctant model. She was a kindly person of strong religious faith. Yet there was nothing puritanical about her. She enjoyed being nude. She had a fine body, not tall, but elegantly curvy. Short blonde hair framed her smiling face. Her breasts sloped down and thrust prominently forward. Her quick series of gesture poses were quite creative. She twisted her torso with arms outstretched. She knelt on all fours with her long breasts swinging beneath her playfully. For a prolonged pose, she stood with hands on hips in a confident stance. I was certainly impressed with her boldness.

I was looking forward to our next model. She was an astonishing beauty with her clothes on, and would surely be stunning when she was naked. Once the robe fell we saw her glorious nude form. She had large dark eyes and long wavy brown hair. She was not the sort of girl who could be a fashion model. They would tell her she was too short and bulky.¬ But she was lovely nevertheless. Her breasts were huge and heavy - massive fleshy globes that shook and swayed and bounced. Capped with large dark nipples, they drew everyone 's attention. Her hips were wide and her thighs thick. Her poses showed all the lovely curves of her exquisite soft body. She gave off an almost spiritual glow of feminine energy. I couldn 't help but be awed by this power. She turned and leaned forward against a chair and we saw her big bottom, twice as wide as our previous model. The flawless smooth curves of these grand hemispheres were simply extraordinary. She stood in profile and her body formed a lovely S shape with her chest rising in front and her bottom curving out at the back. ¬ When she lay on her side for a pose, I saw how her body was like a landscape, a panorama of rolling hills and valleys.

I wanted to get a male model to add variety. I thought it would be good for us to study a different kind of anatomy. I talked to a friend of mine who was an artist himself and asked if he would pose. He was not very willing to participate at first, claiming that he did not have the body of a model. I told him that none of us were perfect, that we all showed our ordinary and natural bodies. After some argument, he agreed. The next day he stood before us nude, obviously a bit nervous about a room full of girls watching him.

I was glad to have the opportunity to study a guy for an hour of poses. He was tall and slim with long legs and arms. I examined his nakedness for some time, noticing how the male anatomy differed from the female, looking carefully and excitedly at the shape and texture of everything. I enjoyed the look of innocence on his face. ¬ He posed in the position of the classic sculpture The Dying Gaul. He lay on his side, one hand supporting him. I admired his gentle neck, and the elegance of his smooth chest with its curves. His handsome abdomen had firm ridges. His soft penis lay draped across his thigh. Seeing him was a delightful experience.

I knew that it would soon be time for me to be the model. I was nervous about this of course. I had to gradually get used to being nude. I would pose naked before the mirror in my room, trying to become comfortable with my body. I looked at myself, trying not to be harshly critical. My shoulders are nicely rounded. My breasts are not big, but they have an appealing shape, gently rounded with very light pink nipples. They don 't move around much, but that 's fine with me. My waist is not as narrow as I would like though my hips still curve outward a little. My belly is soft with a sunken navel. I have a delicate dark bush that grows in a vertical column. My thighs and legs are fairly smooth. But I 'm happy with how I look for the most part. I was happy to be posing nude for the group.

Standing in front of everyone, I felt nervous but happy. I stood with my arms raised for a short pose. I then tried a sort of walking position, frozen in time.¬ I sat with my knees against my chin. Then I reclined, leaning on my elbows. I felt free.

All this has taught me to think about the wonder of human anatomy. I see people walking around now and I think about the fact that underneath their clothes, they are naked. We all are. Beautiful bodies should be seen and admired.

Emma

"As my son grows up, i want to help him navigate beauty and sex. I wanted to feed his curiousity about women and their bodies without encouraging him to be disrespectful, to see a girl only as her body, and without supporting any photography that demeaned or disheartened the model" -- RE


These are samples from the members' section. In fact only from this week's pages! And the pages go back to the nineties.
Pictures are available in 6X size for members.
Join today.