Back when I started Domai in 1997, I don't think I imagined it would ever become 13 years old (on March 9 2010, where I turn 47), and much less that it would now be regarded as an "early site", a "pioneering site" and so on. This is very gratifying, especially since, without too much hard work, I'm making a living of it, and still the site is true to its original spirit. (In fact when I wanted to post material which is more sexual than this original spirit allows, I made a separate site for it last year: GoddessNudes.com.)
I am still delighted and envigorated by the female beauty I work with here, and like Clint Eastwood said to James Lipson: "You're real lucky if you manage to have success in a profession that's fun." Yes indeed.
The severe recession showed that the nudie-industry is not so recession-proof as many of us thought, but due to the many very loyal members I have, I am managing to keep it nicely in the black without too much worry, so thanks to everybody. (Don't feel bad if you can only afford the free stuff, just mention the site to friends and on online forums occasionally, and we'll call it even. :-)
(Apropos, I recently updated my article on money.)
PS: I got asked about what camera gear is good for nudes. Is there interest in an article for beginners about this? Put in your comment here. Update: I've written the article.

On Pornography
By Roger C

There are many definitions of pornography. So many in fact that I hesitate to add one more. But not having seen this definition before, I will hazard yet another definition and then provide rationale for it's use.

Pornography is the term used to demean the beautiful women and their supporters for the production and distribution of either partially clad, or fully undressed beautiful young women celebrating their beauty in various poses.

Rationale:

1. The use of the term pornography is pejorative. There is not a single instance that I can think of where the term is used to describe beauty, art, or celebration of women in any positive sense. Since this is universally true without regard to those using the term it follows directly that.

2. The only possible reason for pejorative use is to demean the women. Ironic isn't it? They decry the use of pictures of beautiful nude women as demeaning to the women. Huh? Let's run that one by again. They demean the women and the pictures of them and claim that it is the self abasement of the women and their colleges in production and distribution. That is a double standard if one ever existed. It is not a long path of tortuous logic. It is by inspection.

3. The irony extends even further. If Sports Illustrated puts out an issue where the women are clad only in paint that looks like a bikini, that is not porn. No, that is art and the women are acclaimed beautiful models and paid handsomely. I do not begrudge either those who create these ideas, the magazine or the models. I only ask for some level of parity in the standard. If it OK to pose nude, with a bit of paint on, for Sports Illustrated, then what is the difference between that and posing for Domai? It is clear to the most uncritical observer that there is no difference. Perhaps it is the poses they are in, not the state of undress.

4. While it doesn't take a rocket scientist or a professional artist to say that the painted Sports Illustrated nudes are professionally and tastefully presented. May I ask, how did you expect the organization of any capitalist magazine to present the models? Your suggestion of anything else would be met with derision and laughter by the publishers. Now that we have broached the topic of poses, let's examine poses in more detail.

5. Pose is very much a matter of personal taste. As a parallel example, I remember clearly when the miniskirt became popular. Before that, women in general thought it unbecoming to be so UNclad as to present themselves publicly in an abbreviated mini skirt. Today, the only negative comments I have heard about the miniskirt is the appropriateness to display a given pair of legs. If the legs are too heavy or disfigured, then it is considered inappropriate. My, my, how things change. So if clothes and legs are a matter of personal taste, is it possible that the poses assumed by the wearer are also a matter of personal taste?

6. For an older generation among us, the presentation of legs (especially well formed legs) in the crossed position is far preferred. The position of having the legs together and parallel or even slightly spread is to be avoided. I presume that the appearance of an undergarment will cause uncontrollable rage in the observing males? :-7 While it may be presumed, it is like other unvalidated theories. The predicted behavior has not been observed.

7. Since it is not observed to cause untoward reactions, one can legitimately question. What about poses without the miniskirt or the undergarments? Without any question there is no area more in controversy than the poses of nude, beautiful women. The assumption is that some poses are not acceptable. This fallacy of thinking was long promoted by the magazine Playboy, who for years wound not display the pubic hair of a woman on their pages. Getting to the point, some believe that the display of a woman's labia and vulva is vulgar. While I can personally testify that a woman's vulva is attractive, I can accept that some may not hold to that standard. On the other hand, large breasts to me are unattractive and should not be displayed without careful thought. Yet, I venture that most observers find the appearance of large breasts attractive. My personal view is that if large breasts are the standard of beauty, that you and Hugh Heffner both have your taste all in your mouths.

Which brings me to the final point, if we differ on the display of large breasts, is it any surprise that we differ on the display of other parts of the beautiful nude woman? And if we differ legitimately as purely a matter of taste, how is it that one pose gets labeled pornography and the other art? I suggest a truce. I won't call your large breasted women gross if you don't call my women's labia pornography.


"To have a site devoted to the beauty of women without needing to be pornographic is a tribute to God's finest creation. Thank you so much and please do keep up the good work!" -- GF < gmfraizer[=at=]yahoo.com>
[e-mail address used with permission]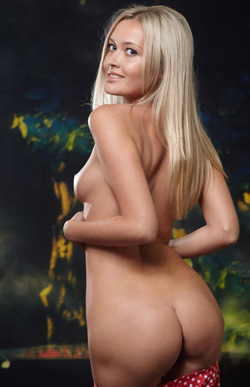 "Eolake,
Have an awesome birthday celebration! Every time I open domai.com or goddessnudes.com is a celebration of life for me. At 67 years old (in May) I have a couple of decades on you. But my heart is healthy because of your lovely women!" - Edward
*****HAPPY BIRTHDAY EOLAKE*****
And thank you very much for your Domai website. Not erotica, not pornographic, but very tasteful, artful nudes. Much appreciated.
Yours truly, Don
Congratulations on 13 years of Domai's fine pictures, and your discriminating taste in choosing them for us. You're a gentleman, a scholar, and a very knowledgeable camera enthusiast, in addition to your other talents.
Your very generous free samples are a source of pleasure to those among us who for one reason or another are not among your many subscribers, and I'm sure we do mention Domai to our friends.
Happy Birthday, Eolake, and may you enjoy many more of them.
Best regards, Ray
When I first discovered Domai in the early years I wondered, "How does this guy make any money posting artful, classy simple nudes?" I admired the models and the photography, but didn't think it would be able to compete with more explicit-themed websites. I found myself returning to Domai as a preferred landing page for images of nude women simply out of appreciation.
After a few years I was inspired to try my luck at creating photos that could be posted at Domai, and to my surprise Eolake posted my first photoset of beautiful Rosalisa. Ever since that afternoon in the summer of 2004, I continue to shoot with Domai in mind. It's been an honor to be a part of Eolake's creative journey that is such a unique tribute to the natural beauty of the women of this planet. I consider him to be a friend and mentor, wishing all the best for the next 13 and beyond! - JP free-form-studios
The women of DOMAI put sparkle back into my eyes. The "old guys" will understand. Thank you for years of taking away the cares of the day with what is simple and beautiful. - Kent B.
Dear Eolake,
Greetings, I was also surprised and impressed with your works at stobblehouse.com. Wow, what a fine taste you have for art. I really appreciate your creations and your vision. It was such a nice experience to visit your website. I was an affiliate of domai for quite a long time but never knew about you. Man! You made my day. Regards, - San
Your site and the effort you put into keeping it informative and interesting is a breath of fresh air. As a recent member, after a year of free appreciation of your site, I hope you will be able to continue to resist the pressures of those who advocate more provocative photos of women, use of professional studio lighting and magazine style techniques. I am in awe of the natural beauty of these young women and admire them for" putting themselves out there". I aspire to the less is more school of photography,
Sincerely, - Michael R.
I don't wish to be sycophantic about it, since everyone's personal configuration is subject to criticism one way or another, but I offer the following definition. In.teg'.rit.y: adherence to one's standards; see Eolake Stobblehouse. - FL
Not long after I entered the internet world with my first home computer in 1999, I found DOMAI and someone who used the name Eolake. I sent him an email to ask why he wanted to call his website Dirty Old Mens Association International. He promptly responded with an explanation that he really believed the opposite, that enjoying the beauty of PYG (pretty young girls) was a good thing, and not "dirty" at all. I found that Eolake would respond very quickly to an inquiry or feedback, and he helped me with some problems I had as a newbie on the internet. (Using BCC for instance) And he helped me build a website which was short lived, but a good experience...
I was able to help promote DOMAI as an affiliate of sorts, as I liked the quality of the pictures and models, and also I enjoyed the various quotes of the day. I found Eolake to be a seeker of beauty, wisdom and truth, and an explorer of different avenues of philosophy and looking for meaning and purpose in art and music and computers and more. I came to appreciate his European sensibility, and what I call graceful perspicacity, a lively mind interested in many things. And he gives good blog.
Happy birthday to DOMAI and to Eolake. March 9 comes just after March 8, which is International Women's Day. I find DOMAI to be a celebration of women, where they are treated with respect, not as objects.
Congratulations Eolake, and I hope you keep up the good work, and continue to prosper. Thanks for all that you share,
Regards from Carter in Kansas City