I've saved the letter below, and the pictures in it, as a Christmas gift for you all. It's from Anna, a young woman who is becoming a photographer. I'm sure you'll like it.
Update Dec 27: I have just added a full page of Anna's photos for members.

---
Dear DOMAI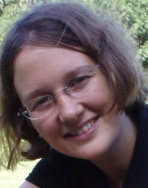 Well, finally, I have decided to write to you. You get today a two-in-one mail from me. One part is my story, as a Domai reader, the other is my first submission to Domai as a blossoming photographer. I hope you enjoy both.

My gratitude goes to you for having created this site which has made me more self-confident and inspired as a woman and as a photographer (not professional, but autodidact and passionate photographer). It made me more aware of my own beauty and of the beauty I can capture through the lens.

So here is my story, the story of how I discovered your site three years ago and how much good it did me. I think it is a great thing to share happiness and beauty and the job you are doing is great. You are channeling positive energies through the web.

It was winter-time, November, and the shiny young man I was interested in was not interested in me. We were having very nice discussions, but that was it. I was feeling invisible as a woman as, I had to admit, I always did when attracted to somebody. I kind of started to look at pictures on the web thinking I should learn to be more sexy. Some were funny, some were nasty, but basically not giving much inspiration. Then I bumped into a site explaining the concept of simple nudes with a bunch of links. I followed some links and discovered Domai. I immediately liked the site's name because it reminded me of an Indonesian word (I'm actually writing a book about Indonesia) and it wasn't until half a year later I found out the actual meaning. I found there so much beauty. So much fun and sunshine in wintertime. Young ladies all naked, climbing on trees, swimming in rivers, flying with umbrellas, so happy and free I had to smile back at them.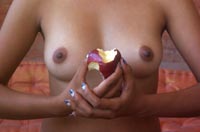 I have been taking pictures and drawing since I was 14 so I could really appreciate the aesthetics of the pictures. I could feel there had been a nice communication between the photographer and the model. Actually a lot of pictures were the kind of pictures I liked to take myself. I mean... I had never taken any naked pictures but I especially liked to take portraits. I liked to make people feel really comfortable so that, through the image, a glimpse of their inner beauty might be revealed. I loved to make somehow "true" pictures that people would accept and treasure. So I was feeling very much at home with most of the Domai pictures. I had been making portraits of peoples' faces. The pictures on Domai are portraits of the whole body, of the totality of the women.

Looking at Domai, nudity was becoming more and more natural to my eyes. I remember one day I saw women wearing lingerie in a newspaper advertisement and I felt those pictures so deeply artificial... At that moment, I realised I had become seriously Domai-addicted and that it had changed the way I was looking at nudity.

Somehow a magic started. Looking at those girls on Domai being happy, free and beautiful made me myself feel more and more happy, free and beautiful. It was as if their energy, their glow was coming through the pictures. Somehow, while looking at them, I was them, and they were me and it was also me who was climbing on the tree and swimming in the river. I don't know how this magic operates but day by day I was going on the site and feeling vitality, flying away from fears and cold. The girls were all shaped different, thin or large, some bigger here or smaller there, with their bodies as personal, unique and beautiful as their faces. By looking at their pictures, nudity was becoming more and more natural, and... maybe it sounds weird, but I was feeling my body more and more belonging to me.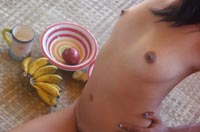 It was part of my personal growth and healing. Actually I am one of those girls who got somehow abused when they were young. I was much luckier than many, I was not raped, nor was I seriously aggressed, but my mum's second husband kind of tried to be close to me in an explicitly not father-like way. I talked to my mum about the problem once when I was 13. She did not seem to take it seriously, so I did not talk about it any more. Actually, many years later, I got to know that she had taken it seriously and had she known anything had happened again, she would have divorced on the spot. But I did not tell her. Fear brings distrust. So I made myself as small, diplomatic and invisible as I could. I spent a lot of time out of house, and two years later left home.

There is the saying that "What does not kill you makes you stronger." I think it could be obscene to state it as a general rule. Two girls I know of, one raped by her priest when she was 12, the other by a neighbour when she was 4, never got over it. Maybe the saying does not apply to them because a part of them was actually killed. People having limbs taken by accidents or wars would probably also not like to hear that saying... Actually it is the kind of wisdom that everybody can feel free to apply on one's situation or not. For me it worked. This story made me more mature, made me start working for money earlier, enjoy more being at school and, later, when my mother divorced, really enjoy being at home. Life gave me a real problem to deal with, and through it I gained the self-confidence to deal with real problems. I met wonderful people on my way but with attractive boys I remained invisible. It was as if I had an integrated alarm system that would switch me off and make me invisible when I was close to a boy I felt attracted to. The clothes I would wear were for hiding, still afraid of generating attraction.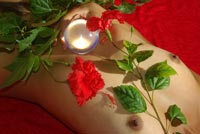 I would say that Domai was one of my gurus and finally helped me through this, more than ten years after the happenings. The beauty of the girls in the pictures made my body feel more free and shiny. The letters posted on the site were so sweet, conveying a whole philosophy of respect and love for female beauty that I started to feel differently about myself. I started to see myself and other women around me through Domai perspective. It was quite transcendental. I could feel more and more that I was young and beautiful with nothing to hide.

During those four months, November to February, I was checking Domai every day, and it really changed me. By February the guy was still not interested. One day I got fed up with the situation and decided to let it go, not to have hopes any more, it could still be a very nice friendship. That very evening there was a party and I danced feeling young, happy, beautiful and free. That was the moment when he became attracted to me.

Domai changed my way of seeing the body in general. I see more glow and beauty in it than before. I think this site is spreading love, health and peace of mind. May it be blessed.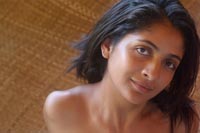 Forces of intolerance, domination, control and fear alienate us from ourselves. For me, it was one specific threat I experienced, for others it may be other kinds of oppression. I feel that Domai allows people to be more connected with that which they are. Discovering how beautiful and natural the body actually is makes us more aware of human beauty in general, that means getting closer to what we really are. It is a great source of joy, peace and freedom.

As the world is sometimes going mad, inner peace and mental health are most valuable. By the way, in Indonesian, the language of the country I am writing about, "damai" means peace.


... So that was my personal love-letter to Domai! And I mean it truthfully...

And, as a blossoming photographer, I would really love to have my pictures on it!

Actually that dream grew in me when I became Domai-addicted. Domai really inspired me. Without it I don't know if I would have ever had the self-confidence to ask somebody to pose naked for me. Domai gave me a definite goal, a project, a framework. I was looking for my model in a very shy way for many months until I finally found her. She is a dancer who had been posing for painters and really liked domai when I presented it to her.

At first I was feeling quite weird about being a woman taking pictures of a naked woman. Maybe still the old "hiding-reflex", feeling that a naked body has to be hidden, even when it is somebody else's body. But as my model was relaxed and very friendly I too relaxed and could be the photographer, helping her beauty to unfold. I am very happy with the pictures we made! Really. When I looked at them, I was overwhelmed. I was feeling these were the pictures I always wanted to make. It made me more complete as a photographer and as a human being. Through my friend's beauty caught in those pictures, it was magically also my own beauty that was shining back at me. The beauty of a woman no longer afraid of her own beauty.

I feel that these pictures are my last steps on my path of personal healing, and my first steps on a long road of photography where I would not have ventured without Domai.

Thank you so much, Eolake!

Sincerely yours,

Anna

PS: THE PICTURES

1. Breakfast and hat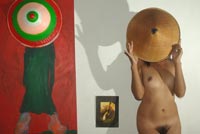 This was a lovely day, my first Domai-shooting!

Ilse and I had known each other for a long time, both studying Balinese dance. This was our first meeting as model and photographer and the first time for me taking naked pictures. We spent the whole day at a painter friend's place on the terrace and in the studio. Ilse was cheerful and spontaneous. She was happy with the breakfast setting, started to play around with the apples, then started to do yoga poses for fun, meditating seriously, then bursting out in laughter. She even ate the apple to give it a yin-yang shape, then meditated with it. It was a freeing experience for her.

As for me, I really wanted to make beautiful and happy pictures. I was so grateful to my friend for agreeing to pose for me and for being so natural and cheerful. I was happy. But still, I was feeling weird about taking naked pictures of one of my best friends! It made it more difficult for me to pay attention to my model's dynamic and to the technology at the same time. It took me some time to get the situation under control. Ilse's relaxed state of mind and cheerfulness helped a lot.

I do think there are some really nice pics in this series. And some, especially those we took on the terrace in the morning, are nice and happy but often slightly blurred: I had not been daring enough to stop my model to ask her to wait for me to change the technical settings.

I do love the hat-painting set. (If pictures with the painting are published, the name of the painter, Iskra Belicanska, should appear.)


2. Cream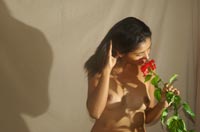 After this first experience I analysed what could be learned of it. I worked out a system to improve my communication with the model, let her free but at the same time ask her to hold a position until I can make a good picture. I set up a background and lighting indoors, experimented with it and headed for the second session technically more prepared.

This time I made the settings more simple: hibiscus flowers and the model, standing and sitting in from of a cream-coloured background. I used flash-lights. I found the result quite amazing, the many megapixels of my camera were really showing, capturing colors and shades so marvelously, making the pictures so beautifully painting-like.


3. Red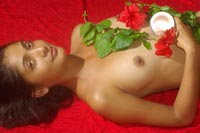 A week later we went on experimenting with red textiles. By this time I had really re-gained my self-confidence, I could control the technology, listen to the model and to myself. I was leading the photo-session as if it had been a normal portrait-session but with so many more possibilities and beauty! I got an acrylic ball that was gleaming just like a crystal ball, bringing an additional touch of magic in the air and on the pictures.

The beauty of these pictures overwhelmed me. Ilse was a wonderful model, bringing a real presence, and becoming a princess after talking about her prince charming. I never would have thought I would make such pictures. It was a dream come true. Thanks to Domai and Ilse!


4. Outdoor mini-session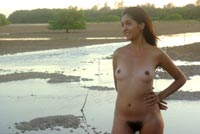 On our next and last meeting we headed for an outdoor session. I had found nice landscapes by a mangrove-tree plantation. Unfortunately for us that day it was much more crowded than expected, so we could only take pictures in one location and for a short time. But even this half-session brought nice pictures.


Anna
AnnaMa_photo (at) rocketmail (dot) com

"Just for fun I scanned the free pictures page of the DOMAI website. VERY generous. Lots of pictures. High quality. For the freebie seekers it's the mother load. But I looked at those pretty girls and thought, "The other 50 pictures from that set were just as good. Those guys don't know what they're missing." The free stuff, good as it is, doesn't come close to what a membership gets you. I never regret my DOMAI membership. So much for so little." - Frank H <rimshot[at]chorus.net>
[e-mail address used with permission]




(Pictures lower on the page)