Dear DOMAI
Early last year I had just begun to understand that there was a difference between nudity and sex. As an American female, nudity and sex had always been one and the same. The way that I was raised also confirmed my thoughts on the subjects, so I had never thought about the two being separate. My thought patterns began to change when I met Lawrence (a naturist himself and a frequent viewer of Domai). As our relationship developed, he helped me understand the differences, and he eventually told me about Domai. I was so impressed with the girls and how nice the pictures were, that I wrote to Eolake in June of 2007 to speak about my change of heart. Much to my surprise my letter was posted on the website.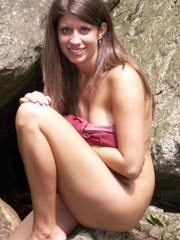 I am writing again, almost a year later to express my gratitude to Lawrence and Eolake for without either one, I would still be narrow minded and rigid in my thinking. In the fall of last year, Lawrence and I hiked on a secluded trail and we decided that we would do a mini nude photo shoot. I have to say I was pretty nervous, as I had never done anything like that before, let alone in the outdoors. After some serious thoughts of not following through, I decided this would be an opportune time for me to practice my newfound beliefs that nudity is not sexual and that it is natural.

So, I took a deep breath and slipped out of my dress. After a few moments of nervousness, I was able to relax and really enjoy the whole experience. I was able to feel the sun's rays shining through the trees on my body and when I sat down in a small pool of water, I felt invigorated.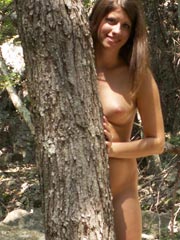 A mile or so down the trail we found a deep, crystal clear pool of water. Of course Lawrence wanted to go in right away, so I put away any inhibitions that I still had left and once again slipped out of my clothes and into the chilly pool of water. The coolness of the water surrounded my entire body and to my surprise I began to feel my senses being awaken by the feel of the water. I have to say that something changed in the way I thought about my surroundings. Things became so much more alive and real to me. I not only was looking at nature, but I was feeling it engulf my entire body.

Recently, Lawrence and I traveled to St. Maarten and we went to Orient Beach (clothing optional) for an afternoon of resting in the sun and swimming in the amazing turquoise water. For me this experience really helped me overcome the awkwardness of being nude in front of other people. I now believe that there isn't anything quite like being nude on a beach. My body felt so alive and free. As I lay in the lounger, I could feel the rays of the sun and the intense heat from it, I could feel the light breeze blowing across the small hairs on my skin.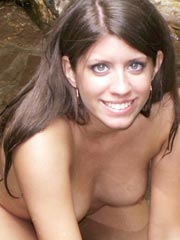 Later, when I entered the water, I felt the crashing waves and the relaxing movement of the ocean as it moved back and forth against my skin. I was able to experience the mist of rain falling on my nude body as we sat and ate lunch in their outdoor restaurant. Throughout the day, I would just start laughing spontaneously, as I was so amazed at how much more sensitive my senses had become and how it made me feel so invigorated and free. I never would have thought about how experiencing nudity in nature would be so much different and in fact incomparable to being clothed in nature. I continue to look forward to more nude experiences and being able to share my experiences with my family and friends without being ashamed or embarrassed. I am proud to have these memories and feel so blessed. I am thrilled that I was able to take a deep breath and slip out of my clothes and experience what it is like to be nude outdoors.

My thanks go out to Lawrence, as he encouraged me to challenge my old, inhibiting thought patterns and experience freedom with my body. I also want to thank Eolake and the Domai website which has continued to be a source of inspiration and joy for me.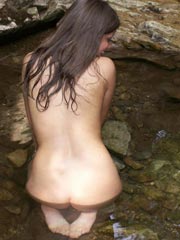 I am attaching a couple of pictures from the photo shoot that I did in Virginia.

I really do appreciate all your efforts in providing such a wonderful website to individuals who appreciate the female form for its beauty and strength. This website has changed my way of thinking and appreciation in regards to my own body and I will forever be grateful for this gift.

-- Brooke

brooke.naturel [at] googlemail.com
---
Update, letter from Tom:
Something deep clicked for me when I read Brooke's letter today. Seeing her smiling up from that pool of water brought back a memory I had suppressed for a very long time.

Thirty years ago I lived outside a major city in Ohio (USA) not far from one of the wealthier suburbs, where homes were built on large pieces of land, with woods and streams interspersed throughout. High school kids from throughout surrounding areas used to drive through the area on summer nights, enjoying the stars, the fireflies, and the fresh air. Sometimes we'd pull off the road and "hang out", or even hike surreptitiously through outlying gardens of the very finest homes, living vicariously in the moonlight. Usually we were just a group of guys, but occasionally one or more girls would come along. Nothing sexual ever happened; we were just kids enjoying nature in an unstructured way.

As a young virgin however I certainly wished something sexual would happen! So I was excited when someone mentioned that up a certain creek was a shallow pool next to ruins of a small stone house, where a little dam had been built across a stream. This sounded promising, and eventually I got a group of friends to explore, including a couple of girls we knew well.

Now if this were like most Domai letters, I'd say someone suggested a skinny dip, and that eventualy we all wound up in the pool. In fact I was far too nervous and embarassed to suggest such a thing, so nothing of the sort happened. Still I was drawn to the magic of the place, as if generations of people had lived here, and this little idyllic spot was just waiting for someone new to enjoy it.

Several weeks later, when my friends were either out of town or otherwise engaged, I found myself with nothing to do, and I hiked to that secluded pool late at night. Bathed in moonlight, trees and night animals all around, I could not resist the urge to become naked in this space and feel the air on my body. I was frightened and very ashamed...would people think me a complete pervert to be out here naked by myself? Would I be arrested?...but I also imagined that people who had lived in this little stone house might also have been drawn naked to the water at night. In I waded, lying down in the shallow water, crouching on my knees as Brooke did in her lovely photograph, feeling incredibly alive, connected with nature, and connected with everyone else who had ever felt alive in this way in this spot. Eventually I had to dress and leave. I visited once again that summer, but never told anyone what I had done, finding it too weird to discuss.

Later in college (and no longer a virgin) I was drawn to a large park, which had group of huge trees at the top of a hill from which there was a view over the campus and town. Here too I found myself alone one evening, succumbing to the urge to become naked and just sit with the planet below me, the trees and wind around me, and the heavens above, feeling a part of the universe, alive in simple nakedness. Once again, I was extremely conflicted in my feelings about this...joy and pleasure tinged with shame. And with very real fear of arrest if discovered.

I could not figure out what the attraction was. I wasn't sexually aroused but I felt awake, alive, and REAL in a way similar to sexual ecstacy. What I've realized since is that for me, nudity in nature brings a sense of presence, of attention to the reality of the current moment, that holds the mind so strongly that all worldly cares and concerns drop away. It is similar to the focus, acceptance, and calm that comes from meditation, yoga, or massage...all activities that still the mind, stop the internal "chatter", and bring us to observe, accept, and enjoy whatever is happening here, now, in just this moment. I have not experienced nudity in nature for decades, but I think these Domai moments (even alone) bring people closer to the clarity and calm that Buddhist spirituality brings to millions.

I would like to share nakedness in nature with others, but my wife won't hear of it. With surgery scars, and the passage of years, she is not comfortable with her appearance, though I find her lovely...ah well. Finding ways to connect at a very real level with other people is one of the most fulfilling things in life, and so to those of you who can make Domai moments happen with others, I salute you. (If you check out tantra...not just the sexual aspects...you may find other ways as well.)

Brooke, I didn't have a Lawrence nor a Domai to help me make sense of my feelings about nudity...until now. Thank you for sharing that photograph of yourself in the water. Beyond the beauty of your form, your soul shines through in your writing. You took me right back to that little stone house in the moonlight....but this time with the perspective to understand it. You have been a "Lawrence" for me. Thank you!

Tom

"Could I just take the opportunity to thank you for all of the work you must have put into building up this web site. It goes without saying that the quality of the photographs is excellent, and often stunning at times. However just as important is the total lack of pop ups and advertising - helping to make it a totally relaxing experience browsing through the pages. That and fast download times make it an absolute joy as against many other web sites these days." - Richard H <huggibear[-at-]supanet.com>
[e-mail address used with permission]



Much more in the members' area.
Pictures are available in 6X size for members.
Join today.