Notwithstanding the question of sexuality of Domai (and I think it's like asking "is rain good or bad", there's no single or simple answer), the letter from Howard below is amongst those letters which will make me consider it a few more times if I ever get a reason for discontinuing this site. Because I don't see any replacement for it.

---
Dear DOMAI
I just wanted to let you know that your site kept me alive during the last year.

About 1 1/2 year ago for an unknown reason I developed a staph infection that settled on my vertebrae. I showed no signs of illness until my back muscles gave out and almost strangled me in trying to keep me erect. After 6 months of antibiotics, (my body rejected the first round after 2 months) I finally had 2 back surgeries, the first to get all of the dead bone out (millimeters from the spinal cord) and the second to insert a cage that is my vertebrae and two 10 1/2 inch titanium rods that are my muscles. The screws are big enough to make a deck! After 6 month of rehab, I am finally getting back to normal. That's the background.

Throughout my illness, I was confined to my home with no outside contact at all except for the T.V. The only thing that kept me remembering what beauty was out there was your site. And I could count on the fact that every Friday was a new newsletter with accompanying pics.

The debate lingers as to 'are these young women objects of desire or beauty for the sake of admiration'.

I can tell you that desire was nowhere in my mind during that year but just to see the innocence and youth that pervade your pics kept my hopes alive that someday, I will hear the laughter of freedom and exuberance.

To think of these beauties as sexual objects is crazy. They merely are confident enough with themselves and realize that they posses a God given beauty that they are willing to share with others. If they are lucky to get paid for it, all the better. I admire that there is not a nip or tuck any where on these women.

As to those that do think that your pics are sexual, or that the women are 'objects of desire', I think that no amount of discussion would change their minds.

I studied the pictures in many ways as I am also a photographer. The way that they use lighting and shade, the direction of the shoot, the look on the faces, body posture, location. You do have access to some of the best photographers around, as well as some of the most beautifully natural women on earth. I only wish that I could try nude photography but my profession is as a high school teacher, that would not sit well within our small community.

After i get financially 'off my back' i swear that i will purchase a membership just so that I can see more of Edita, Elle, Barbara, Dorothy, oh I could go on and on. But till then, here is a little sample of my artwork.

Howard S

Newsletter archive

"I have been a visitor to domai.com for some time and a member for a while as well (over a year, I think, but I'm not sure). I have always appreciated the true beauty of women which your site presents; it's seems almost unique on the Web. Now you deserve thanks for making improvements to a site which was excellent already! From the way you write about your life, you don't seem to be at all a materialistic person. Therefore, I must imagine that your motive is what it has always been - to share beauty with others so that they can appreciate it and enrich their lives. Thank you for the larger images, the 5-days-a-week postings, and the increased number of images per day." - Sincerely, Thomas H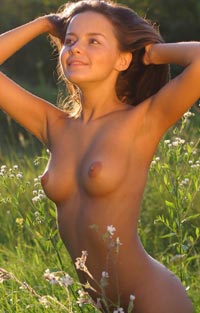 Analise

Much more in the members' area.
Join today.