Dear DOMAI
Letter from Chris
I've been going through a horrible time lately. My wife betrayed me with several other men, divorced me, and then blamed me for everything. My mind was wallowing in a pit of utter despair.

I knew I had to get my thought life back in order if I wanted the rest of my life to improve, so I started doing a lot of things to help myself heal, one of which was opening up my folder of domai pictures and looking through them. I set my computer to do a slideshow of them and just sat and focussed on the beauty and let it cheer me up... then something else began to happen.

I was looking at a slideshow of pics of Anna Red and I started to notice that I wasn't just appreciating her beauty, her innocence, her joyfulness as I do with all the models, I was also being drawn in... as though she was speaking directly to me, encouraging me. It was like when you get a sudden inspiration, instead of hearing individual words, you get a sudden download of information all at once and immediately you completely understand what you've just been inspired with and you can't write it down fast enough. That's what it felt like. Only there was nothing to write down, it was just an understanding, a feeling that I wasn't alone, and it brought a tear to my eyes. It was like she was gently but firmly grabbing me by the shoulder and pulling me out of the whirlwind of chaotic thoughts and making me focus on the pure kindness in her intense penetrating gaze.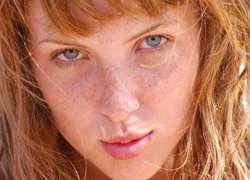 In this picture in particular, she seemed to be staring straight into my soul and giving me a bit more strength to start thinking like the joyful, happy person I used to be.

God certainly did well when He created women. Though a few have chosen to behave like fallen angels ;-) most (and certainly this one) have retained their original celestial brilliance that reminds one of the angelic, and I can feel it whenever I look at her.

Another thing that impresses me is that I don't feel particularly attracted to this girl romantically. Don't get me wrong, I could see myself easily becoming attracted to her if I met and got to know her, but that isn't what I feel when looking at her here. Attraction involves desire, and I don't feel desire for her, it's more like a spiritual sharing of part of herself that I needed and if I were to meet her in person, the thing I most would want to say to her is not a pickup line or flirtation, not to ask her out or try anything seductive, but rather simply, "Thank You." I feel like I've been given a gift that I can fully appreciate without having to have more than was given.

This brings up another thought in me... that men seem to have a special gift for appreciating beauty (like women have a special gift for supplying it). Perhaps we men would be well advised to spend a little time exploring this gift for its own sake, separate from the times that we connect it with other feelings and experiences. I know the more I exercise this gift in myself, the more I discover different and more complex layers to the way that I'm capable of simply appreciating beauty as a gift, and valuing it in that way.

Eolake, I hope you can pass this letter along to Anna's photographer to share with her. I'd like for her to know that her pictures have not only brought joy to many, but have also helped bring a little more healing to a heart that's now a little less broken today than it was yesterday. And my compliments to Sergey as well for the wonderful job of capturing and communicating the healing power of Anna's pure and encouraging look. To both of you from me, "Thank you."

Sincerely yours, Chris
---

Dear DOMAI,
It was during my summer vacations that I've met Margaret while I was an art student in the early 1990s. She was an average looking, middle-age woman but with incredible spirit and aura that could cover the universe. No matter how liberal I was there was no way to conceive the beauty of the human body if it wasn't for this experience in my life.
My university dorms where closing mid June, I didn't want to spent another summer at my home town working in a department store. I needed a job real bad and I was hoping for something adventurous as well as artistic in subject, so I replied to an advert that I found posted on a board next to one of the art classes. An artist assistant position was just what I was looking for. A deep slow woman's voice at the other end of the line asking all short of things about me. The next day I was at her house for an informal interview.
There was big painted round stones in random arrangements among the grass and some funny looking wooden figures on the 'neath the front windows which clearly manifested the existence of an artist in the house. A slim lady with red curly hair, strange mixture of hippy elegance open the door with some delay wearing a Chinese purple robe. She was in her late 40' or early 50's having some mobility problems after a light stroke few years prior but that didn't stop her career it even boosted by giving a new dimension to her artwork.
The house was big with murals painted with vivid colours all over the walls, it had big garage converted in to a studio space and buck yard with a small swimming pool. There where art objects and paintings everywhere many of them having human forms in strange positions and faces with mirthful expressions. I was intrigued from the surroundings as well as the idea that I was gona live next to a real artist for the summer. There was was just a quick introduction as to what she was doing at her art projects, what was her work, eating, sleeping, reading, resting and partying patterns of the house and if I didn't have any objections with all this, Marge asked me if I could start as soon as possible.

After a few days I returned to Marge's house about 11 am, rang the bell. There she was opening the door wearing a canary yellow vinyl apron and nothing else. I think she enjoyed a lot the shocked-funny expression on my face. It didn't take me long to realise that nudity was a casual thing in the house. I followed Margaret to my bedroom, dropped my bag and strait back to the kitchen facing her nude silhouette, magnetised for just few moments that felt like very long time, like the slow motion parts of a film.
It may not sound very exiting, a middle age not particularly beautiful nude woman but it was a moment of "honesty" that comes in ones life very few times. Up to that moment I was considering nudity only in very personal moments or in doctor examinations but I was about to come to a realisation that clothes are not really part of a person, it is something extra. As I was making my coffee the artist lady was preparing brunch she turned to me and said: "I forgot to mention the other day that the house is clothing optional I hope you're cool with that." "Yea yea no problem" I said nodding my head, barely looking at her.

After we had a meal we moved to the studio and started working. Marge was painting on large canvases semi-abstract figures in a very unique style. I was helping her by moving any kind of large objects in the studio as well as doing some housework. About six o'clock in the afternoon Marge was finishing with the artwork and having some leisure time at the back yard, she was swimming and sunbathing needless to say in the nude. I was enjoying my job and there was so many new things that I was learning, but I was having a little trouble with the nudity thing yet.
Sometimes we had visitors in the house and small parties most of Marge's friends where nudists as well and I was feeling really uncomfortable around them. If I was looking at there bodies I was self-conscious and if I wasn't I was feeling like a weirdo, I didn't know how to behave. All this for the first two weeks, then I decided to quit the job and I tolled Marge the reason. We sat by the pool and had a few drinks "Ho bay o boy" she said " ok if you wanna go you are free to do so any time you want but before you go can you do me a favour?"
Well I couldn't refused a small favour to her she has been so nice to me after all. "Can you stay one more day" "yea I can do that" I said. "yea but in your birthday suit" I couldn't get it how could she ask me a thing like that since she knows that this was my problem in the first place "actually boy, you are doing your shelf a favour, loosen up a little bit, learn to live your life" so 7:30 am the next day I left my room and I got on with the usual things just like any other day but in the nude.
It wasn't so horrible after all and by midday I was able to be sarcastic and make jokes about the hole situation. Marggie was teasing me all along and I had unexpectedly good time it was definitely the best day of the summer. By the the end of the day I came to realise many things that had never occurred to me prior, first of all how beautiful Marggie was, a thing that is so strange because exposing an older body should have had the opposite effect but no this was a beauty that comes from within and reflects on one's body and creates the best spectacle life has to offer. I remember very clearly the composition, the nude body next to a wooden piece of furniture or lying on the grass, against a wall or in the water. I can't think of any image more pleasing than that.

Finally I was able to tell the difference between cheap pornography that appeals only to certain minds and animal instincts and the perfection of the human body regardless of the shape and the size of it. I guess people don't see their bodies much unclothed and don't have the time to appreciate it.
In other cultures or places that people expose them shelves and is only natural to do so it doesn't seem to effect their morals or give them any feelings of guilt. This I think is the right attitude because if you believe in god you should consider that if god has given you this body this is exactly what he expects you look like and if he wanted you to look any other way he would have created you like that.
I was a catholic and a nudist after that summer and I don't see that this as an ironic contradiction but much rather as a deeper understanding of the human existence as a combined body-spirit composition. I have met many nudists since then, not that I will go looking for them but if I have a choice I will go for the nudist beach, due to this experience I think I am able to tell the difference, so I find nudists to be no different than any other people.
-Christon