"Domai changed my entire outlook on sexuality. I went into it all as a 13 year old boy looking for sexual pleasure, but after 6 years, I am no longer interested in Domai from a strictly "pleasure" sense. Of course there will always be a sexual presence in nude photography, but I am now very much intrigued by nakedness, form, spiritual love, the concept of eros, etc. This personal awakening is due in large part to Domai." - Douglas

Letters To DOMAI
Dear DOMAI
Being awarded a one-year scholarship, all expenses paid, to a Scandinavian college fulfilled my dreams of an education that could lead to a possible career in a diplomatic corp in a foreign embassy. I read everything I could about my host country and learned the basics of their language because I wanted to live as a "citizen" for a year, rather than "an American tourist."

My host family owned a nice estate on the outskirts of a metropolitan area and prepared for my arrival by planning a welcoming party for the second day I was there. My host brother and sister, twins, Ian and Inga, who attended the same college where I was enrolled, invited several of my future classmates.

It was a delightful affair on their huge patio. About 10 p.m., Ian suggested "The American should experience one of our national traditions ... the sauna." I agreed, as did the others.

When I said I would go into the house to prepare, Ian laughed and said "OK." A few minutes later I came out, wearing my bathing suit, dashed for the sauna which already had steam pouring from the vent.

As I opened the door, everyone broke out laughing ... my new-found college student friends were all nude. I was suddenly feeling very uncomfortable.

"Has the American got something to hide?" one young man chided.

"Maybe he's afraid he might be embarrassed," a young woman said.

Inga took me aside and quietly advised, "No one ever wears clothes in a sauna, no one."

"I didn't know," I said apologetically, slipping out of the loose-fitting trunks as she stood next to me in all her beautiful and uninhibited nakedness. Fortunately, I controlled my body so there was no further embarrassment.

I was awestruck by the casual atmosphere. Everyone was completely comfortable being naked in mixed company. It was like this was a normal everyday occurrence. No one, except me, seemed to pay much attention to the nudity.

I'm sure my inability to take my eyes off the women, especially their firm breasts and athletic bodies, was too obvious. The sheen created by the sauna seemingly made their bodies more beautiful.

I apologized to the group, explaining how I had studied the culture in preparation for my visit, but I showed my ignorance by not reading about the saunas and the Scandinavians acceptance of nudity as way of life.

Ian defended me, explaining that when he was a high school exchange student to America, he had learned quickly that public nudity, on west side of the Atlantic Ocean, was not considered acceptable and was associated with pornography and sex more than with a good, wholesome, healthy lifestyle.

My first sauna was refreshing beyond belief. Because this was late August , the rite of purification included leaving the sauna occasionally to spray each other with cold water right from the well. It was so refreshing. In the winter, those using the sauna would step into the brisk outdoors to roll in the snow.

After about an hour of baking and refreshing showers, we all walked back to the house, naked, sat on the patio, let the cool night air dry our bodies, while my host parents, who remained clothed, served refreshing fruit drinks. We called it a night about midnight ... still naked, me still in awe of the beautiful Scandinavian women. As I recall, no one flaunted their bodies, they apparently felt there was was nothing to hide. It was such a unique experience.

The next day, Inga and two of her friends who had been to the party asked if I wanted to experience the beach life of their community. I looked at my host parents, they nodded approval, and one of the young women quickly advised, "All you need to bring is a smile," obviously a reference to the preceding night, but also a sampling of their humor.

During the drive to the beach, the women said some beaches are clothing optional which meant you could go clothed, unlike America where it meant just the opposite, that some form of nudity was permitted.

Upon arriving at the beach, the "dress of the day" was obvious. While I hung back just a bit, still a bit unsure of myself, letting the hosts dictate the protocol, the young women found a place to spread a blanket to claim a spot on the warm sand. They quickly shed their blouses and shorts, exposing their beautiful bodies completely to the warm sun, then dashed for the water, looking back and chiding me a bit for not joining them.

I quickly shed by apparel while admiring the numerous unclad young ladies nearby, then dashed for the water. I dove into the surf like my hosts did, only to realize the water was somewhat cool, in fact, quite cold. They laughed, Inga saying the "cold water protects men, not woman" as she brushed her hand over her very hard nipples. She was so correct.

We splashed for a while, went back to the shore where they introduced me to some of their friends, including a family, neighbors of Inga's family ... mom, dad, two high school-age boys and their two older sisters, both college students, all nude, all quite comfortable with the surroundings.

We talked for a while, again the beauty of their bodies had me in awe. This is not to say everyone was a perfect shape, but even those women who were a bit plump or men who might have had a few too many glasses of ale, seemed not the least bit concerned about their exposed bodies.

As the summer season turned into fall, the beach trips ended. The sauna along with the patio with its southern exposure became our places to bask. We were nude on most occasions except when there was a very cool wind. However, my hosts installed portable glass walls to turn the patio into a solar-heated atrium.

We used the sauna many times during the winter, me now doing a comfortable naked 50 meters dash from the house to the steamy sanctuary, participating in a couple turns in the snow, and, after an hour or so, dashing from the sauna to the house where we took sanctuary in the atrium, toweling off before letting the warm rays complete the drying of our bodies.

The winter seemed long, but with the combination of attending school, participating in community events, accepting the tutoring of my new friends (no, we did not study in the nude), and learning the culture, November to April passed quickly. In late May, my friends coerced me into venturing down to the beach ... obviously not swimming, but the sand and sun were warm against our naked bodies.

In July, a couple days before I was to return home, my host family invited many friends to the house for a going away party ... we remained clothed until someone suggested we use the sauna "for one last time."

We dashed to the to the sauna, my friends lagging back a bit, I stripped off my shirt and shorts very quickly, swung open the door to the sauna, only be greeted by a half dozen people, including my host parents .... ALL FULLY CLOTHED.

"Don't you understand any of our customs," my host sister said in mock disgust as everyone broke out laughing. There I stood, naked among a group of a dozen fully-clothed people.

They had not forgot my first sauna experience and now I became the brunt of their wonderful Scandinavian humor again. In my anxiety to reach the sauna, I hadn't even noticed there was not vapor coming from the vent. They were delighted with my acceptance of their humor.

As my host parents quickly got the gas fire ignited to heat the stone, my friends all doffed their apparel and we did one last sauna experience ... complete with the very cool water splashed over our bodies.

To this day, my memories of those experiences ... the sauna, rolling in the snow, splashing in the cold lake, and basking on the warm beach, all in the nude ... have not diminished.

My American friends asked if I had pictures. I said "no." I'm sure it would have been an insult to their hospitality and congeniality to have even asked.

I had enjoyed the feeling of being nude in a somewhat public setting ... and enjoying the presence of these wonderfully unclad women, oh, and the men also.

I only wish America had the same attitude these wonderful Scandinavians had.
-- Timothy
---
Dear DOMAI
Greetings to you Mr. Stobblehouse! My name is Douglas, and I am proud to say that I am one of Domai's biggest fans. I understand that your time is not only precious, but also limited so I will be as brief as possible in covering my bases in this letter.

So first off, I'd like to tell you how incredibly wonderful your website is, from the beauty of the women, to the site design and layout, to your interesting writings, I truly enjoy it all, and in my humble opinion, your site is by far the best nude site on the net today.

I am currently 19 years old, and have been enjoying Domai for several years now. When I was 13, I discovered the hideous and disgusting world of hard-core pornography. Needless to say, when my parents found out, I was in big trouble. But my parents are the most awesome parents in the world (haha, but they really are!), and after much discussion on topics ranging from true love, to the Bible, to condoms, we all three agreed that Domai was a good compromise. As you might imagine, mom was tentative, but went along with it under a to-death pinky promise that I would never look at pornography again.

To put it as simply as possible, Domai changed my entire outlook on sexuality. I went into it all as a 13 year old boy looking for sexual pleasure, but after 6 years, I am no longer interested in Domai from a strictly "pleasure" sense. Of course there will always be a sexual presence in nude photography, but I am now very much intrigued by nakedness, form, spiritual love, the concept of eros, etc. This personal awakening is due in large part to Domai.
Sincerely, Douglas


"I have been a visitor to domai.com for some time and a member for a while as well (over a year, I think, but I'm not sure). I have always appreciated the true beauty of women which your site presents; it's seems almost unique on the Web. Now you deserve thanks for making improvements to a site which was excellent already! From the way you write about your life, you don't seem to be at all a materialistic person. Therefore, I must imagine that your motive is what it has always been - to share beauty with others so that they can appreciate it and enrich their lives. Thank you for the larger images, the 5-days-a-week postings, and the increased number of images per day." - Sincerely, Thomas H.


This issue's free gallery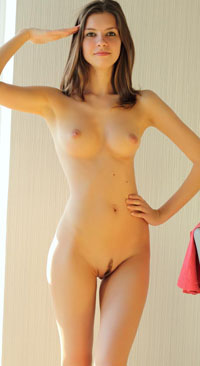 Pictures are available in 6X size for members, and forty times the numbers for the newsletter period! .
Join today. Like our 163,000 members in the past, you won't regret it.