Have you ever read The Gift Bearer, the short story by CL Fontenay? (Out of copyright, get it free here.) It is a delightful and funny little story about how a conservative politician gets a night-time visit by a kind and beautiful female alien, who offers mankind amazing gifts of plenty. The problem though is that she is naked, and refuses to bow to demands that she get dressed. "Think of the children!!"


Dear DOMAI
First of all I want to thank you for creating such a community. Yes, I call this forum a community. Even though we don't directly one-on-one I think that many of us readers share experiences through each other. I enjoy the photos very much and that is what drew me to the site in the first place, but I rather enjoy the letters as well. In fact, I quite look forward to each time when I pull up the site and read the DOMAI news. That the page is adorned with such beauty completes the picture.

Over the years I have had many DOMAI moments one of which I shared a few years back. Now I thought it time to share another. This time I draw from my adult life -actually from my professional life. Now least you be alarmed that there is anything to be concerned about I must reassure you up front that my professional life is very pedestrian. I work for a software company. That does not mean, however, that it doesn't have its interesting moments for my job takes me to a great many places. One of my favorites is Germany.

Two years ago I spent two weeks teaching data security to sales people from a very large company. The site they chose to have the meeting was in a very small town in Germany. One so small that it has only one traffic light that turns off in the evening for the night. Fortunately the hotel I was in had a very nice spa. One of my great pleasures in life spending time in saunas, steam rooms and hot tubs. I do it every chance I get. In the US cloths are required – which I find to be a real drag. In Germany, as many people know, mixed nudity in the spa is a given. Well, I wasn't disappointed.

For the two weeks I was there I spent at least an hour in the spa mingling with the natives. As much as I tried to be nonchalant and discrete I couldn't help but admire the beauty around me. There were women of all ages and body types around me all in their full glory. Some were nothing short of breathtaking. One woman sitting only an arm lengths away from me in the sauna was having a quiet conversation with a colleague – both of them in the nude. She was the stereotypical northern European, tall with blond hair and deep blue eyes. Her body was perfectly formed with gentle curves, soft hair and full but perky breasts. What made it all the more beautiful to me was how comfortable she was in her body. I never noticed even a hint of shame.

Fast forward to the next day. My session for the day was upon me and I took my place at the front of a large room with a considerable crowd. Contrary to popular belief, the Germans are a pretty fun bunch. There was a lot of pleasant and lively chatter. Now, no matter how many times I present, I always feel a bit nervous in the beginning. I think back to a presentation class that I took many years ago and the advise I was given. "If ever you find yourself too nervous to speak, imagine all the people in the room naked." This time I didn't have to imagine too much. As my eyes darted around the room I found myself connecting with some of the very same people that I had seen the evening before. And wouldn't you know it, the woman I so admired in the sauna was right there three rows back. Our eyes met and we shared a quick smile.

The presentation went well and ended with a standing ovation – one of the few times in my life that that has happened. Who would have thought that a lesson in data security could be so interesting. Maybe it was something else that brought them to their feet. Well, there is beauty all around us. Even fully dressed I never tire from that which I find to be more glorious than all else, the sight of a woman.

Thank you again for sharing such wonders with us. Thank you for allowing me to see this splendor though the eyes of so many talented photographers. I wait impatiently and with great eagerness for what comes next.

Yours, P


Letters To DOMAI


I have engaged in nudist activity for many years, all at recognised venues ie Clothing Optional beaches, and in private clubs and swimming pools. I avoid exposing myself in places where it may create an unsavoury situation where it may be objectionable to some people, and I may end up having problems with the law. I am anything but an exhibionist.

After a lot of searching the general vicinity where I live and where there is quite a lot of bushland I eventually found a secluded clearing with a wonderful escarpment overlooking a river within 30 minutes drive from my home where I can relax naked and have no fear of being seen. Never have I seen or been aware of anybody else in the vicinity and have only occasionally been startled by a lizard or snake sunning itself. I often wonder who got the biggest shock. There is a river below the escarpment on which I expose myself and occasionally I see or hear canoeists etc passing by below - but there is no chance they would see me.

On this particular occasion I was laying back sunning myself and I must have nodded off to sleep as I have done before. For some reason I awoke and to my surprise there was a girl dressed in shorts and a top standing not more than a metre a way staring at my naked body. I sat up and attempted to cover my private place as my clothes were hanging in a tree some distance away.

The girl did not seem to be unduly concerned about finding me like this and immediately said "don't worry I am not offended – I gather I am safe with you like that. I have seen your car and you walking down to this spot occasionally. I have another place a bit further along that I use. At first I thought you may come here to enjoy yourself privately but from a distance I have not observed that, if you do. I now realise now you are more like me who enjoys the privacy of the place to enjoy peace and sunshine. I often feel the remoteness and loneliness of the place and would love to have a conversation at times. Today I decided to make contact with you. Would you mind if I joined you."

I said no – please feel free to do as you wish.

She then disrobed and from her bag produced a towel and then laid nearby which enable us to converse without shouting.

She had a beautiful body and it was obvious she had spent some time naked in the sun before, as she had no tan lines at all and was nicely trimmed.

We began to chat and only once ventured into our private lives regarding and our liking of nudity, sunshine and open air.

After a short conversation in which we discussed some world and local events it was obvious we had similar ideals about being naked outdoors. We had both attended two of the nudist beaches in the vicinity and had similar ideas. One of these was predominately patronised by males and was obviously a gay haunt. She said she only went twice because she was made feel unwelcome. I said I had a similar opinion as I had been approached each time I had been there, but did not follow their philosophy. On the other hand the other beach was generally a family beach. I felt single males were in some ways looked upon as paedophiles or gay.

She laughed and said she felt the same, as a male I would have been more suspect than she was. However she again said it was a little embarrassing for her as well. A few husbands – and fathers of the children there – had on more than a few occasions had engaged her in conversation, away from their family gathering, either in the water or even on the beach. She really had no interest in them or their conversation, but found it difficult to tell them to go away. The attitude of their partners and family were obvious. The number of times the children were sent to tell 'Daddy'… Mummy wanted him was embarrassing – well for him.

I could see why. She was a very attractive female and had just enough of everything in the right places and proportions to be a grade above average beauty. Being an attractive woman on her own was obviously a disadvantage. From the conversation I gathered she was not a same sex person and had friends of both sexes.

I considered with the topics of conversation we had she would make an ideal partner and that we could both enjoy social intercourse in company, such as wining, dining and theatre. I had made many a female friend but few if any were prepared to spend time in my company in the personal circles in which I associated. Socially I was acceptable but in more private circumstances when these involved occasionally being naked in mixed company at pool parties and nudist club activities etc most were uncomfortable. She sounded like she would handle it without a problem.

After a period of quiet time in which we both lay silently enjoying the warmth of the sun on our bodies, she asked me if I had been to a recent jazz concert where a well known band had played.

I had and it became obvious that we had more than a few things in common. I suggested that perhaps we could have a meal or go to a theatre together in the near future. The offer was accepted and we made arrangements to meet the following night for dinner. The evening was a huge success and she agreed to partner me to an art exhibition the following weekend.

This was the beginning of a long and happy association. We both enjoyed the arts and the pursuit of our love for the open air and nudity. We became lovers after a short period and we both realised we had more in common than either of us had experienced with partners before. The relationship was acknowledged as a lot more than social respect and nudity. Neither of us wanted marriage but we decided we could live together as a committed couple with similar ideas and ideals, and we still do – clothes are the least of our concerns except in public and we have purchased a second property away from suburbia with an expanse of open country where we spend most weekends following our pursuit of naked pleasure and spontaneous love for each other without having to worry about the prying eyes of either neighbours or others. The alternative is to patronise some private club or venue, and somehow we do not feel comfortable with some of the company we have met there. We have our circle of friends and spend many happy days and hours in their company at our retreat without the need to be clothed. Unlike some events they do not degenerate into sex orgies, as many a stranger imagines.

Never did I consider, after many unsuccessful attempts, that there was another person in this world who believed in the same ideals as I do without clothes on and the physical love for each other that that can ensue.
We both enjoy the occasional visit to Domai – and the beautiful girls we see there. My partner in life could easily qualify to be featured there but alas that wont occur. We have both commented about those girls who have such beautiful figures spoiled by prominent tan lines. She is also a believer in a little is better than none when it comes to the nether regions. We wish that they could spend a little time with us in order to safely expose their bodies to Mother Nature and erase the tan lines naturally. Unfortunately not all people can see the beauty of naked bodies without considering them to be in some way sexual exhibitionists. I would say there are far more immaturely minded people doing unmentionable things in bedrooms throughout the world who consider they to be more normal than those enjoying the responsible freedom of the sunshine and fresh air of this world, in natures clothing.

If only we could convince most of them nudity is not depraved or unnatural, but a philosophy of natural freedom. It is not an excuse for sexual fraternisation, but I agree most people are naked when they engage in their sexual pleasure, and I can accept the relationship between nudity and sex. On the other hand I would say from observation most sexually motivated or driven people are rarely naturalists.

Not everybody is a picture of beauty in their nature suit but nudists' minds are open and well adjusted and their ideals far better suited to a wonderful and fulfilling life.

Long live naturism.
Neil


"I am a very proud member of Domai.com, the home of the unquestionably best, tastefully photographed, beautiful nude women anywhere on the internet as well as any photo gallery or museum established anywhere in this world. Congratulations and sincere appreciation to Eolake Stobblehouse for operating this site so very well..."
- - J Aspen


This issue's free gallery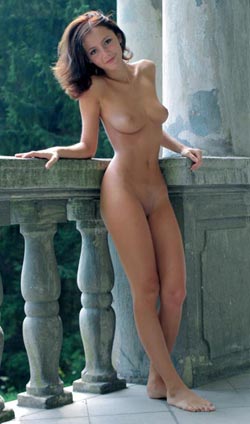 I have chosen to omit the zip file from the free galleries, in the hopes of 1) saving bandwidth, 2) encouraging signing up, 3) making people look at the individual pictures instead of just saving them. (All the members' galleries have zip downloads though.)

Feel free to share this gallery with your friends, including individual pictures. (You may also put them on your blog/site, if credited.)

Pictures are available in 6X size for members, and forty times the numbers for the newsletter period! .
Join today. Like our 156,000 members in the past, you won't regret it.