Dear DOMAI
Why Am I A Nudist?

The not-so-original answer to the above is, "I was born that way". So allow me to switch two words around and state, "Why I Am A Nudist"

I realized the pleasant sensation of being nude early on in life. As a youngster growing up in the 1950s my parents sent me off to summer camp in northern Wisconsin. The three years that I spent at the boys camp I was probably age nine, ten and eleven. The camp provided us young boys with many activities to keep us busy all day long. One of them was swimming and we always swam in the nude. Back then we didn't know what homosexuality was, or puberty, or predators. All of us felt very comfortable running out on the dock and jumping in the lake. We also had a sauna and after throwing water on the heated rocks we would run out into the cool evening, steam rising from our bodies, and jump in to the iron ore colored waters of the lake.

We also went sailing often. One time we took all of the sailboats and sailed to a small rocky island. After securing the boats we all stripped down and went swimming and hiked about, all completely nude. I recall that our group felt completely natural, there was no discussions about being nude, no snickering and no embarrassment. Those were memorable summers of my youth.

A few years later I'm living in New Mexico and going to high school. I have a small motorbike to get around. On weekends in order to get my homework done I found it necessary to leave the our noisy house full of younger siblings. I discovered that packing up my books and riding my motorbike out across the desert and finding a place of solitude with some shade I could get my reading and homework done. I also started taking a blanket with me and when finding a nice spot I would disrobe and go about my business in the nude. I was becoming interested in social nudism without realizing it.

As my life continued, and I am now married, I discussed with my wife that I'd like to get involved with social family nudism. I did some research, which wasn't easy in those days before the internet, and found a nudist camp just a few hours drive from our home. We made inquiries and off we went one weekend. My wife was completely at ease and enjoyed the experience as much as I did. We later joined a local travel club which was affiliated with the ASA. (The ASA was the American Sunbathing Association which later became the AANR, the American Association for Nude Recreation, www.aanr.com) A nudists travel club is one that does not own property as opposed to a landed club. Our travel club would meet monthly for nude swims at a rented indoor pool, pot luck dinners at a member's home and travel to landed clubs in the summer.

During our seven year marriage we traveled to other states visiting various nudist clubs and resorts. Once we rented a house for a week on a small Caribbean island. A mile long beach was just several steps from our door. Even though it wasn't a designated nude beach we turned it into one. As we laid in the sun and swam in the ocean occasionally others would walk by and nobody seemed offended by our nudity. On several occasions several couples shed their clothes and joined us. Practically the entire week was spent sans clothes.

After our marriage broke up I spent the next fifteen years as a bachelor. During these years I made many trips to Europe, usually spending about five weeks just driving around, meeting new friends, visiting museums and seeing the sights. I found that in Europe nudism is more widely accepted and I tended to go in the direction where there where nude beaches. I have visited numerous islands in the Mediterranean with lovely nude beaches, friendly people and warm climates, even in September and October when it isn't so crowded with tourist.

On one small island I met a young woman just off the ferry boat. I was down at the port having breakfast and as she past by my table she asked if I knew of any youth hostiles on the island. There was none. I offered her a ride on my rented motorbike up the steep hill to the small village where I had found a small pension the day before. I informed her that I believed there where small inexpensive rooms still available. Arriving at the pension she asked to see my room before making a decision. She noticed that I had two single beds in my room and asked if she could room with me and how much it would cost. Being a gentleman and much older then her, I assured her that she was perfectly safe and that I wouldn't charge her. I assumed correctly that she was backpacking the islands on a limited budget.

After settling in she asked if I knew where the beaches on the island were located. We jumped on the motorbike and I showed her the two I was familiar with. The first one was rather large and very crowded with cantinas and other tourist traps. She inquired if the other beach was less crowded and not so noisy. I informed her that it was small, not easily accessible and a nude beach. So off we went. I was amazed at my good fortune. Within an hour of meeting this very attractive young woman she was sharing a room with me and we were on the small beach, nude, sunning and swimming and getting to know each other. We spent the next three days together exploring the island, trying different restaurants and developing a friendship that exist to this day.

I have come to realize from my experiences at nudist clubs and on free beaches that I enjoy these settings not because I can view other people without their clothes on, but because being nude makes me feel relaxed and at peace with my surroundings. Meeting other people in a nudist environment you see and get to know the whole person, not just a naked body. Going on a clothes-free holiday has it's advantages, less luggage to carry and less laundry to do. Plus, you are with a group of people who share your interest and thus making friends is so much easier.

One bright Sunday afternoon I was at a nudist camp sitting poolside with about fifty other folks. Some were sunbathing, others swimming and some of us just reading the Sunday newspaper. A few feet away, just on the other side of the fence surrounding the pool, a lovely young lady walked by wearing a very brief red bikini. Every man put down his newspaper and focused their eyes on the girl in the bikini. Mind you, there were many nice looking women in pool area clothed only in their birthday suits. The girl in the bikini was sexy and lovely to look at. Had she walked by without her bikini I doubt anyone would have given her a second look. I relate this incident to demonstrate that that which is suppressed is most desired. Nudism and nudist camps and beaches are not about sex. It is about freedom and being comfortable with who you are and with your own body. We are all different in age, gender, physical condition, height, weight, surgery scars etc. But nude we are really all the same and everyone possesses their own inner and outer beauty.

Now I come to Domai. Eolake is to be commended for his efforts in assembling various photographers and female subjects. I hesitate to call them models because these wonderful and expressive photographs of women don't appear as if they are posing. We all have our preferences and mine are photos taken outdoors near a body of water. I find rivers, waterfalls, lakes and streams to be very sensual on their own. Placing a lovely young woman in this scene is to view God's loveliest creation, the human body. I've notice that the women of Domai appear to be confident, not ashamed or embarrassed, comfortable being nude and enjoying the experience. They have such beautiful smiles and exude happiness. Continue on Domai.

Allen


"To have a site devoted to the beauty of women without needing to be pornographic is a tribute to God's finest creation. Thank you so much and please do keep up the good work!"
-- GF


This issue's free gallery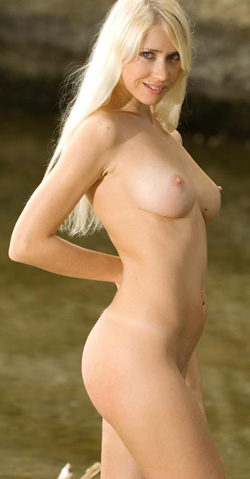 Join today. Like our 156,000 members in the past, you won't regret it.